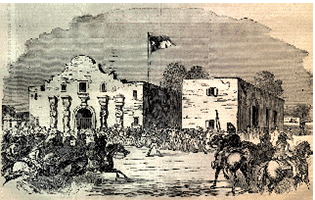 Green Berry Jameson

was an important and instrumental part of the defense, during the 1836 siege and battle at the Alamo, the Mission de San Antonio de Valero at the Presidio San Antonio de Béjar, a Spanish fort built near the San Antonio River, located in what is now downtown San Antonio, Texas, then a disputed territory. He was a Lieutenant[1] in that mostly volunteer army and served on the staff under garrison cocommanders, James Bowie and William B. Travis, as 2nd Adjutant and Chief Engineer. As such he was responsible for fortifications and other staff and emissary duties. Things did not go so well for the 182 to 257 or so defending Texas soldiers who lost the battle to General Antonio López de Santa Anna, almost all of which, including Green Jameson, were killed.
Jameson was born in October of 1805[2] in Kentucky, the son of William and Jane Jameson of Barren County. He was one of eight known children,[3] several who were involved in his estate after his death at the Alamo. His grandfather was John James Jameson, also of Kentucky, who had died there in Fayette County about 1801. His name "Green" may have been a family name, he had a cousin with that as his middle name. Or, it may have come from the Green River which bordered his family's property in Kentucky, where they were living at that time. His middle name is a similar mystery although some think it may too have been a family name, perhaps from his mother or grandmother. Others think it may have come from his father's friend and local Barren County official, whose surname was Quisenberry.
Green Jameson grew up in Kentucky but came to Texas about 1828, as a young man, settling first in San Felipe de Austin,[4] where he set up a law practice which handled a number of important clients, including Steven and Henry Austin, James Prentiss of New York City, Edmund Andrews, and even Samuel Swarthout, Collector of the Port of New York. By 1835 Jameson resided in nearby Brasoria.[4] His business had him traveling travel extensively throughout the Texas territory, mostly working on land deals for the government and for those who had settled in the territory, which included the plotting and surveying of these plats for which he apparently possessed some experience. He came in contact often with Austin, Houston, and many others who were finding it increasingly harder to deal with Mexico's harsh attitude toward the colonists, several of which who became important leaders in the fight for Texas' independence.[5] In fact, right from the beginning, evidence suggests that Jameson himself was involved in politics and the movement for self rule and an independent Texas.[6]
It is said that Jameson was a friend with James Bowie and had taken part with him, in the siege and battle of San Antonio de Béxar, in the fall of 1835.[4] In this instance it was the Texans who laid siege on the city, then held by Mexicans. After the victory here, Jameson remained in Béxar as chief engineer under the command of James C. Neill and later, William B. Travis. As such, he would have been involved with any physical changes and fortifications at the Alamo.
In a letter to Sam Houston on January 18, 1836, Jameson gave a detailed description of the defenses of the Alamo and the condition of the garrison. This included his assessment that the reconfiguration of the cannons left behind when the Mexicans left the Alamo after their defeat the previous year, could now "whip 10 to 1 with our artillery."
On February 1, 1836, G.B. Jamison was among the 205 or more inhabitants in the Alamo fortress who elected two delegates to the Convention of 1836, which would begin meeting on March 1 at Washington-on-the-Brazos. The Convention of 1836 wrote the Texas Declaration of Independence, prepared a constitution, organized an interim government, and named Sam Houston commander-in-chief before hastily adjourning on March 17 to respond to Santa Anna's invading army.[7]
On the 23rd of February 1836, the day Mexican Troops surrounded the Alamo, James Bowie sent "Benito"[8] Jameson as a messenger to Santa Anna, asking for an honorable surrender.[8] The effort turned out to be a disaster, as Travis was upset about this and sent his own emissary. Santa Anna refused to meet with either of them because he felt the Texans assumed themselves his equal, referring them instead to his lesser officer, where they were refused and an unconditional surrender demanded.[9] The siege at the Alamo began the following day and lasted several days until March 6th when the final assault and battle began.
Green B. Jameson died on March 6, 1836, during the battle at the Alamo, he had never married.
On December 21, 1837, an act of the Republic of Texas created a program to donate land to the heirs of those who had "fallen with Travis in the Alamo." Several years later, on June 18, 1851, 640 acres were granted to Mary (Jameson) Nuckols, a sister and heir of Green B, Jameson.[10] There were several legal actions regarding claims and other actions connected with this land in the 1860's and 1870's, ultimately settled where Semiramis (Nuckols) Jemison, Mary Nuckols' daughter, retained most of what had been originally granted because of Green Jamesons sacrifice at the Alamo.[11] More details here
---
Note: Green B. Jameson is often listed to be of different parents, mostly a Benjamin Jameson of New Jersey. This is not correct. For a detailed explanation go here.
---
Y-DNA tests, associated with this family,[a] #: 131200(cd), 259093(cd), 497221(cd)
---
Y-DNA Analysis - As far as we know, Green B. Jameson never married, nor was he known to have had any children. Therefore there can be no direct descendants. There are however several known collateral Jameson descendants, those from children of his siblings and cousins. Of this there are three (so far) who we know, from traditional document based research, are connected to Green B. Jameson and who have Y-DNA tested. All three of these tests are a close 37 Marker STR match within the "R"Haplogroup, positive at SNPs M207. P25. L51, L151, P311, P312 & L21. There are also four other people who have tested and match those we know are related to Green Jameson, however, we do not yet know how these others might be related, probably distant cousins, as opposed to identifiable family members. Further STR or SNP testing will likely show a more selective terminal SNP Haplogroup designation.
The good news is that anyone doing a minimum 37 marker Y-DNA test can determine if you are a match with these other descendants. Beyond that, more traditional document based research will be necessary to determine the exact relationship. To find out more, or to join the Jamieson Family YDNA Project and order a Y-DNA test - we recommend the Y-DNA37 test - please go here.
---
Footnotes/References
[1] On most muster rolls and lists, Green Jameson is identified as an "ensign," as were all engineers of the Texas army at that time.
[2] Date derived - based on a ship's record of New York Passenger lists, 1820-1957, showing Green B. Jameson, lawyer, departed Vera Cruz, Mexico, on the ship Congress, arriving at the port of New York on 23 Jan 1832. It gives his age as 26 years, 3 months, which would make his birth about October 1805.
[3] Some believe there were nine children, including an Emily Jameson (b.c1800-d.1831), based on an 1834 letter written by Green Jameson's brother, Christopher Hawkins Jameson. The Emily mentioned in that letter is however, much more likely the second wife of Willis Lee Jameson.
[4] Texas State Historical Association - Bio Green B. Jameson
[5] The Jameson Newsletter - March 1990 - "Remember the Alamo" - Scott Jameson
[6] Southwestern Historical Quartely -Volume 21, p. 325
[7] Election for delegates to attend the Convention of 1836 - Texas State Library and Archives Commission
[8] "Benito" was James Bowie's nickname for Green B. Jameson and is how the letter actually referred to him.
[9] Alamo Sourcebook, 1836: A Comprehensive Guide to the Battle of the Alamo and the Texas Revolution, Austin, TX: Eakin Press
[11] The Southwestern Reporter, Volume 21 - 1893, West Publishing Company
---
[a] dd=direct descendant; cd=collateral descendant
---
Bibliography/Resources: